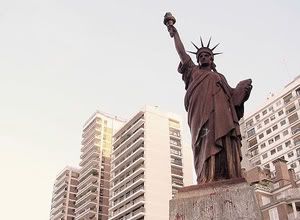 Statue of Liberty replica in Buenos Aires
Photo credit:
ATENCION
I spoke with a Bue Festival organizer about the
Beastie Boys performing at the festival
in Buenos Aires. The organizer insists that all acts listed on the
Bue Festival official web site
are
100% confirmed to perform.
Additional acts (mainly local ones) will be added to the line-up in the coming weeks.
Background on the festival
The Bue Festival is a two-day music festival held at
Club Ciudad de Buenos Aires
, which is an open-air venue about 30 minutes from the city center. Although indoors, the festival is organized much like an outdoor festival with food, art, and merchandise tents. The festival is general admission; there is no seating. Fans typically queue outside the venue in advance for good spots inside. Unlike some festivals in South America, the Bue Festival has a good reputation for its security.
Tickets
Ticket price has not yet been set for the festival, but you can expect tickets to cost approximately US$40. Tickets are normally sold at the Ticketek box offices in Argentina and at
Ticketek.com.ar
.
In South America, concert ticket sales are often controlled by the sponsors, who can dictate how tickets are sold (e.g., only a Visa credit card may be used to purchase tickets or tickets may only be sold at a particular outlet such as a supermarket chain), so fans located outside Argentina might experience difficulty purchasing tickets.
Although a confirmation from a festival organizer should be enough information for any Beastie Boys fan to go ahead and plan to attend the festival, I would warn against investing money in those plans until the Beastie Boys officially confirm their appearance on
their official web site
or mailing list.
A concert or performance is never official until confirmed by the band or their representative.
Unfortunately, the Beastie Boys do not have a good record for communicating information to their fans in a timely manner, so fans risk missing out on airfare deals, etc., if they wait for the band to make an official announcement. I can only hope that the reason the band has not yet made an official announcement is they will be announcing additional performances.