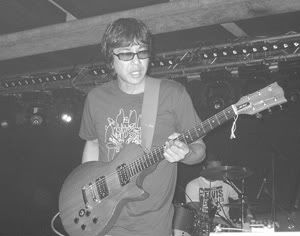 Photo credit: croki
Money Mark is currently on the road, playing a number of festivals and club dates in Europe (see the performance dates on
Mark's Myspace.com page
). Today's
Irish Times
reviews Mark's show in Dublin on Tuesday (August 22):
REVIEW: Money Mark, Crawdaddy, Dublin
By Ali Bracken

Mark Ramos Nishita (or Money Mark) became the latest victim of airline misadventure when United Airlines lost his keyboard and varying other musical equipment en-route to his European tour.

To most people, this would be a major inconvenience, but to Money Mark, it's like chopping off an arm and a leg and offering only a vague promise of reattachment. But he soldiered on.

Somehow, I doubt he's likes the "fourth Beastie Boy" label he's been tagged with but he's most revered for his collaboration with the trio on such releases as Check Your Head and Ill Communication.

He's really a solo keyboardist though, who likes to team up with lots of artists to keep his style fresh. Nowadays, he's best known for creating atmospheric records that incorporate pop appeal.

But musical fame wasn't always part of his game plan.

He's originally a carpenter - he met the Beasties while doing some hammer and nail work at their studio - and he's just put down his toolbox momentarily to make some obscure tunes.

He played an assorted mix of hip-hop beats, blues, jazz and rock 'n' roll that was never repetitive and spanned from style to style with ease. Between songs, he floated about the stage haphazardly but his musical capability shone through as he moved from his keyboard to pick up a mouth organ, theremin, guitar and whatever else came to hand.

Back on stage for a weird but wonderful encore, Money Mark put the microphone in his mouth to create feedback and banged hard on the drums. He's one of those people who looks around a room and sees everything as a potential instrument.

Money Mark plans to travel to every part of the world in search of new inspiration because he has grown bored of the sounds in the Northern hemisphere.

It's sold as music for the open-minded and is created by an exceptionally talented, if somewhat dazed, musician.
Watch video of Money Mark performing live in Dublin at Youtube.com (courtesy
bridub
):
Arthur Magazine's Arthur Nights Festival
to be held October 19-22 in Los Angeles. Tickets are available via
Ticketweb
.