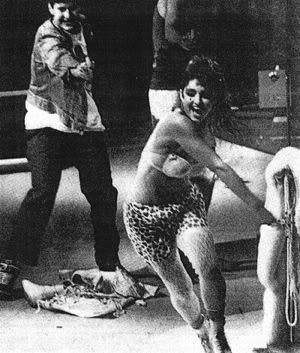 A rarely seen 1985 photo of the Beastie Boys shooting water guns at Madonna
Last fall, Cey Adams introduced me to Bill Adler, his friend and co-author of
DEFinition: The Art and Design of Hip-Hop
, when their book was first published. Adler, who was the director of publicity for Def Jam in the eighties, was moving his office and packing up its contents. When he learned that I was a Beastie Boys fan, he shuffled through his records and presented me with a file. "This should tickle your fancy" were his exact words. The file contained all of the press clippings from the time when the Beastie Boys toured with Madonna in 1985. Adler directed me to the closest Kinko's to copy the file.
These days, it would be difficult to locate the articles without going through microfiche at a library. Although most of the articles are more about Madonna than the Beastie Boys, they provide insight on the Beastie Boys' early career and how they were perceived by the media.
Click on the above photo to see the contents of the
Bill Adler File.