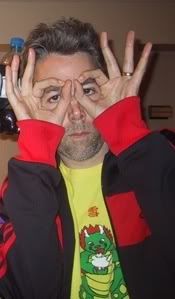 Adam Yauch continues to focus his attention on Oscilloscope Pictures. Yauch is now pimping his b-ball documentary across the pond. Gunnin for That #1 Spot will be screened at the Raindance Film Festival, which takes place in London from October 1-12. In addition to having his film screen at the festival, Yauch will sit on the filmmakers jury and determine the best films of the festival.

Earlier this summer, Yauch was nominated for the Gucci Group Award -- an award given to an artist who has made a significant contribution to a film in any capacity within the past 18 months, as a director, actor, screenwriter, set designer, or costume designer. Although the award was bestowed to another director (Steve McQueen for Hunger) during the Venice Film Festival, Yauch surely benefited from the nomination -- most likely receiving some sweet Gucci gear and the respect of fellow filmmakers.

On September 5, Yauch attended the premiere party for the Coen Brothers' new film Burn After Reading, starring George Clooney, Frances McDormand, and Brad Pitt, at the Toronto Film Festival [see pic from WireImage.com below]. Presumably, Yauch attended the film festival to scope out possible films for Oscilloscope to distribute and to help promote Oscope Pics' Wendy and Lucy, which screened at the festival.




To celebrate the North American release of Gunnin' for That #1 Spot on dvd on October 21 [pre-order at Amazon], Yauch will participate in a Q&A at 92YTribeca, a new venue in Manhattan, on October 23. Tickets may be purchased at 92YTribeca's web site for $12.
Photos: Beastieboys.com and WireImage.com