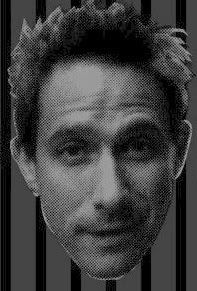 We received a request for an all-Adam Horovitz update, similar to our previously published all-Adam Yauch report. Because we're about making people happy, we'll oblige.

Soooo, what has Mr. Adam Horovitz been up to, you ask -- no! -- DEMAND to know? According to a source, Horovitz has been playing a lot of softball, like he does most summers. The same source tells us that Horovitz has recently suffered a leg injury, which has him hobbling around like his semi-crippled bandmate who plays the bass. We feel for them. (Really, we do.)

Hopefully, the Original Nasal Kid will make a full recovery before he hosts this year's Gimme Shelter Rock and Rescue concert at the Highline Ballroom in New York City on October 6. The concert is a fund-raising event for Rational Animal, an organization that works to help animals in New York City. Get your tickets for the concert here.

If you attend this year's Gimme Shelter Rock and Rescue concert, you will have an opportunity to bid on some collectibles donated by the Beastie Boys at the concert's accompanying silent auction.

Speaking of collectibles...our friend and Beastiemania.com colleague, 9th Beastie (aka Mark), added an interesting item to his Beastie Boys collection not too long ago. He kindly gave us permission to share and write about his find -- a New York punk fanzine from early 1983 -- here at Mic to Mic.




[Click photos to go to enlargements.]

The 'zine, titled "Killer," contains a talk with a young, homework-doin' Mike Diamond, who reveals that the Beastie Boys have a new guitarist.

Michael said this...John Berry is not their guitarist anymore -- the new guy is ADAM from The Young and Useless. Now there's 2 Adams in the band.*
Beastie "heads" will recognize press acknowledging Horovitz as a new addition to the band as rare, mainly because Beastie Boys did not receive a lot of media attention until Licensed to Ill was released. The style and language used in the article makes it a unique, historical find and read.

Unfortunately, that's all the Horovitz info we can scrape up for now. Sorry. Look for our equally lackluster all-Michael Diamond update in the near future.
*Twenty-five years later, there are still two Adams in the band. Nice, huh?