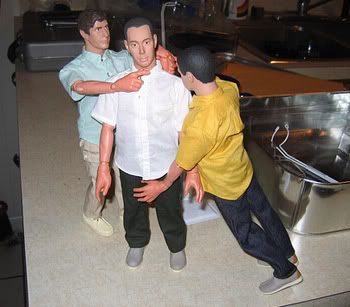 Horovitz tries to save Yauch from being strangled by Diamond.
You too could play with some Beastie Boys figures and help a worthy organization. (Pose by me, action figures courtesy of Pooty)
The Beastie Boys have donated a sealed set of the rare Nigo-designed Beastie Boys action figures to the
American Civil Liberties Union of Southern California
for a
charity auction on eBay
. The ACLU is an organization that fights to preserve the rights guaranteed by the
Bill of Rights
.
Also available in the ACLU of Southern California eBay auction is a
pair of tickets to the VH1 Hip Hop Honors
, at which the Beastie Boys will be honored for their contributions to hip-hop music, on October 7 at the Hammerstein Ballroom in New York City.
Bidding on the Beastie Boys figures begins at US$1,000, and the Hip Hop Honors tickets at US$300. Both auctions end on September 12.