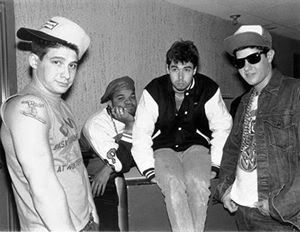 Mp3 blog
Captain's Dead
is offering a vintage Beastie Boys show to
download in mp3 format
. Although Captain's Dead claims the show's date was May 16, 1985,
Beastiemania.com lists this show
as being on March 23, 1987, at Cleveland's Public Hall. Believe Beastiemania.com's date. They know their stuff.
Setlist
Intro
Slow and Low
The New Style
She's Crafty
Time to Get Ill
She's on It
Paul Revere
Rhymin' & Stealin'
Posse in Effect
Slow Ride
Slow Ride (Continued) [not an instrumental as noted]
Hold It Now, Hit It
No Sleep 'Til Brooklyn
The highlight of the show is the sweet Aerosmith opening to a pumped version of "Slow and Low." The lowlight is Adam Yauch's complimenting a girl for her "beautiful pair of tits" before "Time to Get Ill."