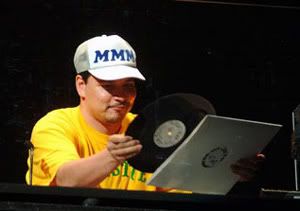 Nobody can do it like Mix Master can!
They aren't joking about that. It's the truth.
Mix Master Mike has a few gigs scheduled this month and next. According to
Mixmastermike.com
, he performs on the following dates:
February 24 - Las Vegas, NV, Tangerine Lounge & Nightclub
February 25 - Atlanta, GA, Compound
March 2 - Orange County, CA, Club Scribbles
March 3 - San Francisco, CA, Club Six
March 4 - Portland, OR, The Greek
March 9 - Austin, TX, Sky Lounge
March 10 - San Antonio, TX, Revolution Room
March 11 - Houston, TX, The Pink Monkey
For tickets, contact the specific venues.
On the topic of Mix Master Mike, he provided the musical entertainment at the
Pollstar Concert Industry Awards
last week in Las Vegas.