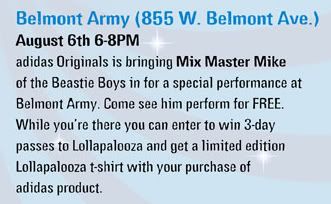 Here's some good news for Beastie Boys fans who are attending Lollapalooza. Mix Master Mike will be performing at
Belmont Army
, a vintage clothes store in Chicago, on August 6 from 6-8 pm. This is a Lollapalooza FREE show, sponsored by Adidas.
Update:
According to the schedule at his management's site, MMM will also be playing
the RiNo
in Chicago on August 6 and
the Manor
, also in Chicago, on August 7. Both places are "guest list nightclubs"--not really the kind of place the average MMM/Beastie Boys fan would want or could even get into.