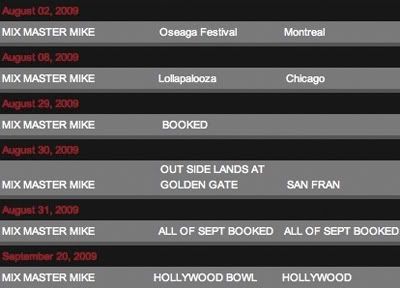 From
Copelandentertainment.com
An update of Mix Master Mike's tour schedule reveals some clues about what the Beastie Boys 2009 tour plans will be. Clearly, the month of September has been reserved for the Beastie Boys tour of North America.
Most interesting is the booking on August 29, the day before the Beastie Boys will play the Outside Lands Festival in San Francisco. A betting person would put money on the Beastie Boys playing a club show in San Francisco or Los Angeles on August 29.
What the band will be doing in October is unknown--perhaps more shows in North America. In November, Beastie Boys will travel to Europe. Adam Horovitz confirmed the European tour plans when the Beastie Boys were doing a press tour in England, Germany, and France recently.