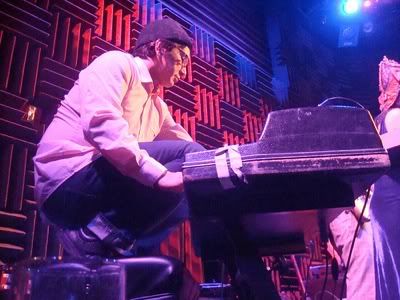 Money Mark was in New York City this past week to perform at two separate events. First, he performed at
"Red Hot + Rio 2: The Next Generation of Samba Soul"
with a number of artists at the Brooklyn Academy of Music Opera House. He also performed with Helenka, a musical collective formed by Yuka Honda (Cibo Matto), at Joe's Pub. The performance, which celebrated Honda's birthday, was "instructed improvisation." Simply put, the band jammed under Honda's direction. (See photos from the show at
Flickr
.)
You can hear a new song from Mark on Brushfire Record's holiday collaboration
This Warm December
. On
Mark's Myspace blog
, he writes that the song, titled "Stuck at the Airport," was:
"written a long time ago but only in my head and when I was asked to contribute to Brushfire's Warm December album I couldn't resist putting it down on tape! It's just a joke and I hope it makes you laugh a little!"
The album may be purchased at Brushfire Record's Online Store. Portions of the proceeds supports children's music education.