I've been slacking a bit at Mic to Mic. Sorry. Here's a round-up post to make up for my lack of updates lately.
Brooklyn-born artist
Santogold
revealed to
NME
that she is working on a track with the Beastie Boys for their record. To which I say, "Woo-hoo!" -- not only because I like Santogold and her
2008 self-titled release
, but also because I like the idea of the Beastie Boys working with a female artist. Beastie Boys have not collaborated with a female artist since the 90s when they worked with
Miho Hatori
. (Hatori contributed to the Beastie Boys' songs "Twenty Questions," "I Don't Know," "Hail Sagan," "Start," and their cover of "Light My Fire.")
Speaking of the Beastie Boys new album...No work is currently being done on the album. The band are taking the summer off from making music. (Hear it from Yauch's mouth in a
new interview with Radio 1045
. He says the new album is "half-way done.")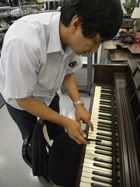 Mike Diamond
is spending his summer in Malibu with his family. There have been confirmed sightings of Mike and family frolicking on the beach.
Adam Yauch
is busy with the business of film making. He has turned his focus to Oscilloscope Pictures, promoting
Gunnin' for That #1 Spot
and the two films Oscilloscope Pictures has chosen to distribute,
FLOW
and
Frontrunners
. (Visit
Oscope Archive
to learn more about these films.)
Money Mark
is in California, just back from the Jack Johnson tour, buying equipment and recording his own new album (see a
new article about Mark at Giant Robot's blog
).
Mix Master Mike
has been doing
private shows
in the United States and signed on to appear at some European festivals later this summer, the newest one being in
Geneva, Switzerland
. I don't know what
Adam Horovitz
is doing with his summer -- probably
playing softball
.
Other Beastie Boys-related news...Former Beastie Boys percussionist
Eric Bobo
will be releasing a solo album later this year, either in August or October.
Beastiemania.com
will have the details in the near future.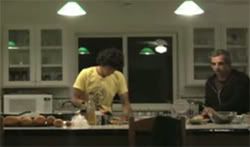 Did you know Mike D is lactose-intolerant? I didn't before I watched Tamra Davis'
newest cooking video
, which shows the Diamond family enjoying a Tamra-prepared meal in Hawaii with Beastie Boys uberfan Ben Stiller and his wife, actress Christine Taylor. Check out the video and recipes at
Tamra Davis' Cooking Show blog
.
Finally, I wanted to share that I had the opportunity to see Yauch's documentary
Gunnin' for That #1 Spot
when I was in New York earlier this month. I intended to write a detailed review for Beastie Boys fans who were curious about the film, but after seeing it, I decided that I'm not qualified to write about a basketball documentary. I like basketball, and I like documentaries, but I'm no movie critic. I am, however, a music fan and can tell you about the four new Beastie Boys songs that are in the film.
The titles of the new Beastie Boys songs in the film are "LTD," "Beasley Is a Beast," "The Panda Rat," and "Politickin'" (all written by Horovitz, Yauch, Diamond, and Nishita/Brooklyn Dust Music). Another song, titled "Bass Line Is Nice," appeared in the first edit of the film, which was shown at the 2008 Tribeca Film Festival, but removed for the theatrical version.
Three of the four new songs sound like outtakes from
The Mix-Up
, and one song is more electronic/BS 2000-y -- kind of like "And Then I" but without vocals/rhymes. I believe the electronic song is titled "LTD," but I can't say for sure because the song credits were not listed in as-heard order. Only one of the new songs is heard at length in the film. It accompanies Lance Stephensen's profile. It's a jam piece, centered around Money Mark's organ.